Home > Gameguide > Interface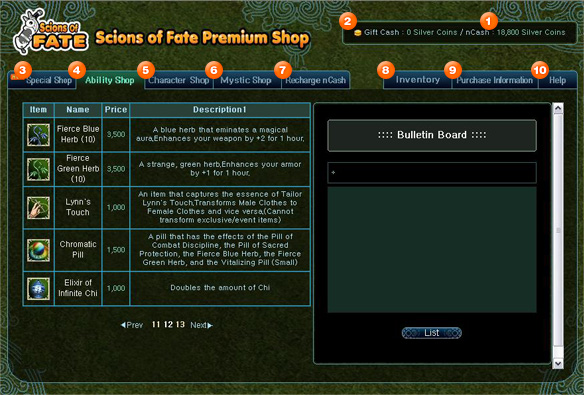 Gift CashIt is a cash earned by the user via event, or from a friend
nCash CashCash purchased by the users using real money
Specal ShopYou can purchase certain event items over limited time period, or simply limited edition items
Ability ShopYou can purchase items that changes the characters stats, skills, and abilities in addition to pet items.
Character ShopYou can purchase items to customize your character here. Some items may increase certain stats
Mystic ShopYou can purchase Premium Items and special items from this shop.
Recharge nCashHere, you can recharge your nCash to make purchase within the Premium Shop. 1USD is equivalent to 1000 nCash. For details, please click here.
InventoryThis menu shows you of your current inventory status. When you are buying many items at once, please check to see if you have enough space in your inventory
Purchase SummaryYou can check your purchase history by the dates
GuideDescription of the Premium Shop, how to recharge the nCash, how to use the nCash, and End User Agreement is explained in this section
NoticeThis is the announcement section regarding the Premium Shop. When you click on the items, announcements will disappear and item description will show up. You may purchase the item by clicking on the purchase button at the bottom of the page.