Home > Gameguide > System information



Strong boss monster will come up in premium channel. The boss monster is much stronger than other monsters in normal channel.
Field boss monsters drop special items.

Boss monsters appear in fixed area at random.
Boss monster appears only premium channel.
6 kinds of Boss monster appear in 6 areas once a day.
Field Boss
Rock
Hazard
Cloud
Descendant
Electricity
Breeze
Frozen Dark
Lord
Earthquake
Giant
Phantom
Ringleader
Area
Pirate Bay
Darkhand Lair
Desolate Lands
Ice Palace
S.Forest
Tiger Valley
Time
weekday
22:00
22:00
22:00
20:00
20:00
20:00
Weekend
14:00
14:00
14:00
20:00
20:00
20:00
10 minutes Before boss monster appears, system message will show.


As the reward gotten from field monsters influences your faction (all), you need to beat up the monster by keeping other faction in check.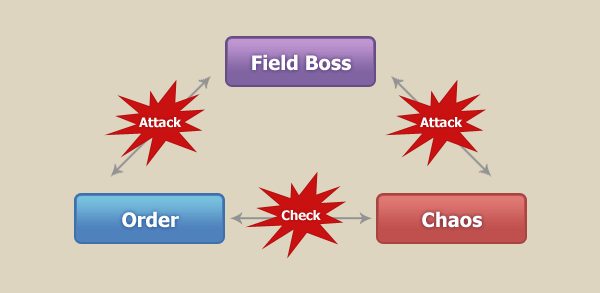 After aggregating the damage point which faction member gets, winner will be set. When party member is attacked or killed, the point which is gotten by boss will be removed. The part member, who has acquisition of boss monster reward, shows de-buff item. The member who has 10 lv higher than boss cannot get exp and item from boss monster.