Home > Gameguide > System information



You can register the war through House War Manager in Market Place.
If your house meets the condition of the house war, your team will be matched with other team.
| | |
| --- | --- |
| LV of House | To join the House War, House lv should be 4 or more. |
| Game Money needed | House Master will need to have 50,000,000 game money to participate in House War. |
| House Honor | You need more than 50 House Honor. |
| The no. of participant | For Battle god Hall, minimum 8 members are needed, or maximally 24 members are needed. |

If your house wants to join the war, House master has to choose the member to participate in advance.
With House Window [Ctrl+G], you can check how many members online, and register them to the house war.
After registering House War if you want to cancel, you can do that through House War Manager (Even honor and expense will be refunded).
After your House War match with other house decided, you will have 3 mins to prepare the war and after that you can go to Battle god if you are in Market Place.
During the preparing time (3 mins), the participants will be moved to Market place every 1 minute to join the war. (If you open "Personal Shop" or trade personally at that time, you have to join the war by yourself)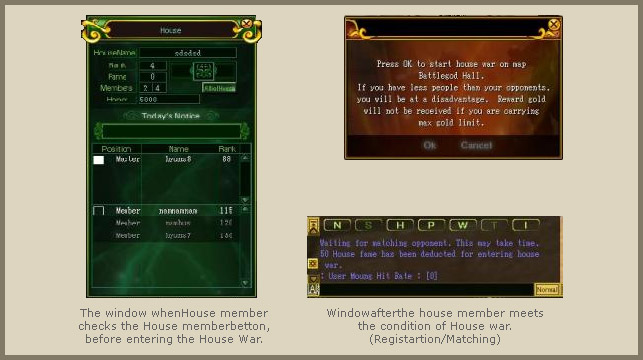 Before your house gets other house to have battle, your house master can cancel the war.
When the war is canceled, game money (50,000,000Mil) will be refunded.
After the match starts (your House gets the other team to fight), House master cannot cancel the war.


Based on the number of House and level, your opponent team will be decided.
By checking the average level of houses, the opponent team will be decided. (But, if there is no same level house, the lv can be +/- 10lv.)
After the House War teams are matched, it is not possible to cancel.