Home > Gameguide > System information



LMS is one of the PVPs like users have a game until there is one survivor. If you are the last survivor, you have a choice to fight with boss monster.

LMS will be conducted every day, and on Sat, users have a match by promotion grade. You can move to LMS through NPC 10 minutes before. On Normal(PVP) Channel only, there is LMS.
Start
Sun-Fri
SAT
Amplification Pill
19:00
-
All 3rd promotion group
20:00
-
All 4th promotion group
21:00
-
All 5th promotion group
22:00
Each Promotion Grade
All 1st Ascension Group
23:00
-
All 2nd Ascension Group

There are some rules of LMS.
- After entering LMS, every character appearance looks alike.
- In LMS, you cannot use specific items.
*In LMS You can use the items gotten from the monster during the tournament.
- After entering LMS, you will not be able to equip or UN-equip the items.
- You will not be able to communicate with others through chat or pigeon system.
- Your HP and Chi (healing ability) will increase to 300%.

LMS is composed of 4 rooms and 3 rounds.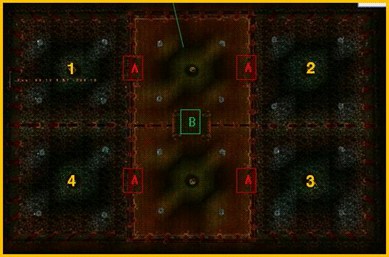 You can have tournament/PVP with others in each same room of 1, 2, 3, and 4 area.

After 1st round is over, you can enter A door, having PVP again with survivors.

After 2nd round is over, you can enter b door, having PVP with survivors.
With 3rd round, a final winner (LMS) will be decided.

The final winner can choose whether he will challenge the fight with Boss Monster [DevilSky] or just get reward item.
If you win at Boss Monster Mode, you can get better reward, but if you lose, you will not get any reward.
When you fight with [DevilSky], Devil sky enters the LMS stadium with his alter egos.
As there is only one real DevilSKy, you have to beat real one within 3 mins.

In LMS, there is special area. If you go to the area (when the area is active), you can get some effect of the area.
- Teleport: You can move to somewhere randomly.
- Hide: For 20 seconds, you can hide yourself. But, if you defeat someone, this effect will be removed.
- Recovery: HP is recovered to 4000.
- Range: Range attack is applied to random area.
- Immortal: with the effect time, you can be in the specific area.

LMS item is dropped in LMS stadium or monster randomly

Image
Name
Object
Effect
Time
Gold Orb
Oneself
Att 100% increase
60 seconds
Oneself
Att 50% increase
60 seconds
Oneself
def100% increase
60 seconds
Oneself
def50% increase
60 seconds
Oneself
Immortal 10 seconds
10 seconds
Oneself
Accuracy100% increase
60 seconds
Red Orb
Other
Att 30% Decrease
30 seconds
Other
Att 60% Decrease
30 seconds
Other
def50% Decrease
30 seconds
Other
Dodge Rate 100% Decrease
30 seconds
Other
Forbidden Movement 7 seconds
7 seconds
Other
Forbidden Movement 5 seconds
5 seconds
Other
Delete 10 buff Randomly
immediately
Blue Bottle
Oneself
Chi 2000 Recovery
immediately
Red Bottle
Oneself
HP 4000 Recovery
immediately

According user's promotion grade and the round, every participant can get reward
The less promotion grade user can get much more game money. The higher grade players can get much more honor.

Reward for Survivor
Reward for Survivor
Honor
Game money (Unit : 10,000)
Honor
Game money (Unit : 10,000)
3 Promotion
30
1500
100
5000
4 Promotion
50
1000
200
4000
5 Promotion
80
800
300
3000
Ascension 1
100
500
400
2000
Ascension 2
150
300
500
1000

| Participant | Reward % |
| --- | --- |
| 1 ~ 5 Players | + 0% |
| 6 ~ 10 Players | + 10% |
| 11 ~ 30 Players | + 25% |
| 31 ~ 50 Players | + 50% |
| 51 Players | + 100% |

Image
Name
Effect
Processing Time
Buff for Survivor
Exp + 10%
240 Mins
Buff for Winner
Exp + 20%

Score
Number
all Participant
2 Tokens
1round
One Defeat, 1 Token
2round
1 token
2round Clear
1 token

* You cannot get the token by defeating NPC 'Opponent.'
* After LMS is over, you can do Soul Jung Hyun's quest "Condition of True Warrior"